Nick Lindberg
Ägare| Coach | Player Development
Nicklas Lindberg, född och uppvuxen i Stockholm, har mycket hockey erfarenhet. Han har spelat professionell hockey i Europa och Nordamerika i 15 år som en playmaking forward. Nick har många års erfarenhet av skills training. Han har coachat och tränat i hockey camper i både Nordamerika och Sverige. Nick arbetar nu med spelarutveckling som sträcker sig från amatör, junior, college till pro nivå. Han har senast arbetat med Tampa Bay Lightning från NHL. Sedan han avslutade sin spelarkarriär 2016 har han fortfarande varit mycket aktiv in hockey. Nick är nu bosatt i Tampa, FL, där han arbetar som hockeydirector och head of coaching Han vill nu överföra sin kunskap och skills inom hockey till nästa generation av spelare. Hjälpa dom att nå sina mål och drömmar inom hockeyn.
Allt vi gör och allt vi tror på är att hela tiden pressa gränserna för hur bra du som spelare kan bli på och utanför isen. Vi gör det för att du ska få möjlighet att nå dina mål och drömmar inom hockeyn.
Genom annorlunda träning och nya idéer med influenser från både svensk och nordamerikansk hockey skapar vi unika och roliga hockeyupplevelser. Oftast med utbyte mellan svenska och amerikanska ungdomar. Vi tror att vi har mycket att lära av varandra!
Om du älskar hockey (som oss) och är en spelare som vill nå dina mål och drömmar, kommer du att älska våra camper.
Vincent Lecavalier
Tampa Bay Lightning - Stanley Cup Champion, Rocket Richard winner
Nick is really elite in what he does, I know you will learn a lot from him!
Brian Bradley
2x NHL Allstar, Tampa Bay Lighting
Nick has a great future in what he does and has a strong passion for the game of hockey. The camps and training that he does is outstanding. He also works really well with age groups ranging from young players all the way to professionals.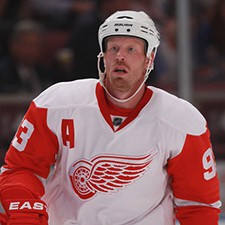 Johan Franzén
Detroit Red Wings - Stanley Cup Champion
Nick has great skills and knowledge of the game. He's the guy to work with if you are looking to take your skills to the next level.
Har in frågor? Kontaka oss